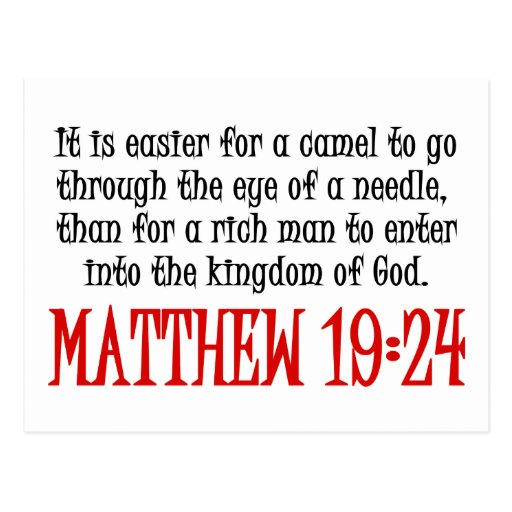 Pentecost 21 – Thursday Devotion
Readings:  Deuteronomy 31:1-29  and Matthew 19:16-30
Deuteronomy 31: 7-8:   Then Moses summoned Joshua and said to him in the sight of all Israel, "Be strong and courageous, for you shall go with this people into the land that the LORD has sworn to their fathers to give them, and you shall put them in possession of it.  It is the LORD who goes before you.  He will be with you; He will not leave you or forsake you.  Do not fear or be dismayed."
Matthew 19: 23-24:   And Jesus said to His disciples, "Truly, I say to you, only with difficulty will a rich person enter the kingdom of heaven.  Again I tell you, it is easier for a camel to go through the eye of a needle than for a rich person to enter the kingdom of God."
"Entering Heaven with a Camel"
The people living in Jesus' day recognized the commonly seen camel as a 'big' animal.  It was a beast of burden, carrying loads and people across many miles of wilderness and deserts.  Everyone knew exactly what Jesus was seeing when He uses it in His 'sentence' parable.  Camels were pretty large.
It didn't matter if your camel was a Dromedary (one hump) or a Bactrian (two hump) camel.  Neither camel finds it easy to go through the smallest item which everyone could identify—the eye of a common sewing needle.  That's pretty small.
But how absurd of Jesus to think that anyone could push a large camel through a tiny hole!  But Jesus makes His point.  He says that it will be easier for a camel to do that than for a rich man with all his possessions to enter heaven.  
The rich man who asked Jesus the original question was looking for that one thing that would assure him of the front seat in heaven.  Jesus takes him to the Torah, specifically the Second Table of the Ten Commandments, and drills him whether he has kept all of them.  Loving parents, not being a murderer, keeping himself sexually pure, not being a thief or slanderer, and the very difficult commandment of not coveting any of a neighbor's stuff…this man checks through that list saying, "I've kept these all since my youth."  (Yeah, right… we say!)
"One thing you lack…"  Jesus tells him that one thing, and immediately we see a change of heart.  This man walks away, carrying all his possessions in his heart, for that was his god.  Jesus craftily seeks to show him that he may have kept all the Second Table of the Law, but fails in the First Table of the Law, including having no other gods before the True God.  
Moses instructs the Children of Israel about this True and Only God:  "It is the LORD who goes before you.  He will be with you; He will not leave you or forsake you.  Do not fear or be dismayed."  We should fear, love, and trust in God above all things. Martin Luther writes that in the explanation of the First Commandment.  
But we shouldn't 'fear' God in the sense of being afraid.  We fear Him by respecting His almighty power and authority over heaven and earth.  We trust in God and we love God.  Perfect love casts out that earthly fear of being so afraid of God that we fail to trust Him to be near us.  We trust Him to grant us eternal life through the merits of Jesus' death on the cross and His resurrection from the grave.  And remember, Jesus took no possessions with Him into His grave!
He sent Jesus to be with us.  "Lo, I am with you always, even to the end of the age," Jesus says at the conclusion of Matthew's Gospel.  Throughout the Bible we read and hear of that promise spoken so many times. 
Yet God calls us to unload what burdens us, especially our sins.  The legend has it that a camel loaded with goods had to be stripped of its load before it could go through one small gate in the walls of the City of Jerusalem.  Yes, the camel can get through, but the goods had to be left outside that gate.
The same applies to us.  God gives us goods to use on earth, and we use those gifts to His glory.  Then we pass them on to others as we enter heaven when we die.  Imagine:  In heaven we will see many camels without burdens!  By God's grace, may we enter heaven without our burdens!  
Prayer:  Lord God, help us remove our burdens of sin and the cares of this world.  Help us to be faithful stewards of all You have granted us. Enable us to lay these burdens down, to give to those in need, and to trust in You for our eternal salvation.  Thank You for forgiving us our sins of coveting our possessions. Enable us to hold fast to the true treasure, our Savior Jesus Christ.  Amen.
Our Father…
Now may the God of peace Himself sanctify you completely, and may your whole spirit and soul and body be kept blameless at the coming of our Lord Jesus Christ.   (1 Thessalonians 5:23)